Free virtual Sound Canvas MidiTop10
Midi files & audio
French & English Songs
Professional Midi Sequences
Pro Backing Tracks





Free with purchase of 35 Backing Tracks and more.
'Edirol' Virtual Sound Canvas
Vsc-Mp1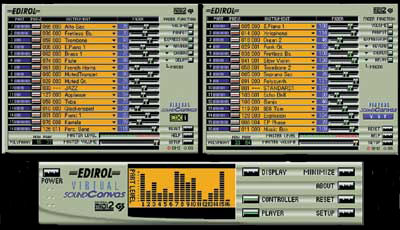 Virtual Sound Canvas Multi Pack
The VSC, Virtual Sound Canvas, is a software sound module that provides a complete General MIDI 2 and Roland GS sound set of MIDI instruments to be used on your PC (Windows XP, 2000, Me, 98) or Mac (9.x). The VSC-MP1 package offers the Virtual Sound Canvas software synthesiser available in 3 compatible formats, Direct X instrument (DXi), VST instrument, and stand-alone application (driver version). In particular, both the DXi and VST versions allow you to play the entire Virtual Sound Canvas collection of sounds in real time from your controller keyboard while playing/recording through compatible software, such as Cakewalk SONAR or Cubase VST. Such dedicated DXi and VST versions guarantee low latency during transmission of MIDI data between the computer and the keyboard, avoiding undesirable note delays while playing. The Virtual Sound Canvas delivers a selection of remarkable sounds with 902 Instruments and 26 Drum Sets, comprising of Grand and Electric Piano's, Brass sections, Bass & Guitar's, and providing the ideal sound engine on 16 Parts for playing and recording MIDI Files and accompaniment tracks. Its controller window allows you to easily assign Program Changes, to adjust Volume, stereo positioning (Pan) and Expression for each Part as well as to control the level/type of Reverb, Chorus and Delay effects for each sound.
Up to 128-voice polyphony, 16-part, DXi/VST2 plug-ins and stand alone software synthesizers
902 GM2/GS tones and 26 drum sets
Up to 24-bit/96kHz resolution
Reverb, Chorus and Delay effects
TVF filters for fine-tuning of original wavetable sounds
MIDI to WAVE/AIFF file conversion function


Great choice of MIDI FILES & AUDIO SONGS: Popular, Top 20, Rock, Dance, Disco, Latino, Oldies, Country, Western, Standard, Classic and Opera, Children's songs, Medley, Christmas Songs, And all the new HITS in MIDI FILES & AUDIO Backing Tracks.
You'll find QUALITY MIDI FILES or AUDIO BACKING TRACKS at low price.ce, affordable price.







Enter the song title or artist.