Gift certificate MidiTop10
Midi files & audio
French & English Songs
Professional Midi Sequences
Pro Backing Tracks



MidiTop10 gift certificate.
Give a MidiTop10 Musical Track Gift Certificate we add 20% more to the value you choose. So this is an original gift for a
friend. Please just send us a email for more information click here.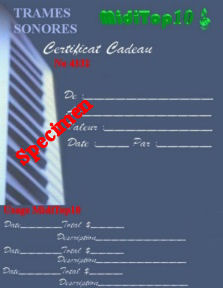 Great choice of MIDI or AUDIO SONGS: Popular, Top 20, Rock, Dance, Disco, Latino, Oldies, Country, Western, Standard, Classic and Opera, Children's songs, Medley, Christmas Songs, And all the new HITS in MIDI or AUDIO Backing Tracks.
You'll find QUALITY MIDI FILES or AUDIO BACKING TRACKS at low price.ce, affordable price.